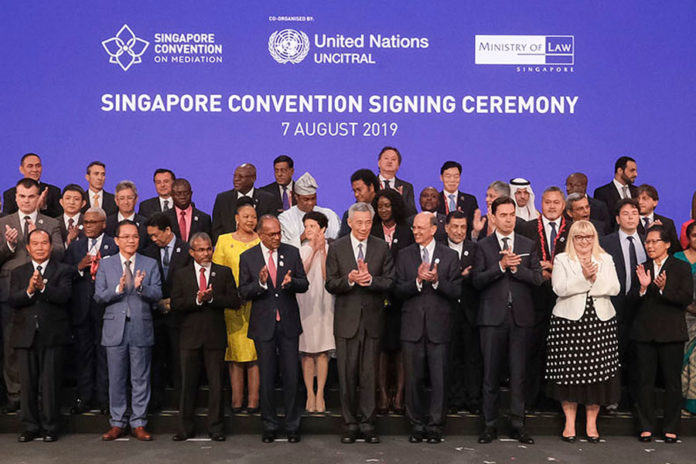 This column has previously discussed issues concerning mediation, including the different conceptions of mediation (see China Business Law Journal volume 2 issue 9: Mediation or conciliation?) and the issues that arise when mediation occurs during the course of judicial proceedings (see China Business Law Journal volume 9 issue 8: Judicial mediation). The column below discusses a new convention that was signed in Singapore on 7 August 2019 – the United Nations Convention on International Settlement Agreements Resulting from Mediation (also known as the Singapore Convention on Mediation) – and explores its potential impact.
Background to the convention
In some circumstances, a mediation takes place during the course of formal court proceedings and the settlement agreement that follows the mediation is recognized by the court and given the same effect as a court judgment. A similar situation can arise in respect of mediation that takes place during the course of arbitration proceedings, where the settlement agreement is recognized by the arbitration tribunal and is given the same effect as an arbitral award. In these circumstances, the agreement can be enforced in the same way as a court judgment or an arbitral award.
In other circumstances, the mediation occurs outside a formal court or arbitration process. Under these circumstances, any settlement agreement that follows a mediation is treated in the same way as any other contract. In other words, if one of the parties breaches the terms of the settlement agreement, the other party must take enforcement action in accordance with the mechanism provided by the settlement agreement itself – either court proceedings or arbitration – and it then must seek to have the judgment or arbitral award recognized and enforced. This may prove challenging in cross-border disputes, and may involve considerable cost for the party that is seeking to enforce the terms of the settlement agreement.
You must be a subscriber to read this content, or you can register for free to enjoy the current issue.
你可以订阅去解锁所有内容。你也可以免费注册去浏览最新一期的内容。
A former partner of Linklaters Shanghai, Andrew Godwin teaches law at Melbourne Law School in Australia, where he is an associate director of its Asian Law Centre. Andrew's new book is a compilation of China Business Law Journal's popular Lexicon series, entitled China Lexicon: Defining and translating legal terms. The book is published by Vantage Asia and available at law.asia.