Role
Business Development Consultant – China (To work remotely for Bangladesh's leading law firm)
Location
China
Job Description
Accord Chambers is Bangladesh's top law firm. The firm is now desirous to explore relationship building in China keeping in mind the investments sweeping into Bangladesh from China. The ideal candidate will direct the business development activities of the Firm in the Chinese market. The successful candidate with work remotely from China and play a key role in the generation of new business across China and assist the firm in developing synergies with corporations and law firms in China.
Requirements
Bachelor's degree required with understanding of business development and legal market in China;
Demonstrated track record of increasing revenue through generation of leads;
Strong communication skills and English & Chinese language competencies;
Excellent interpersonal skills and ability to successfully manage key internal and external relationships.
Contact details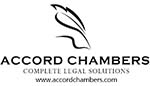 Email: [email protected]
Phone: +880 171 124 4627