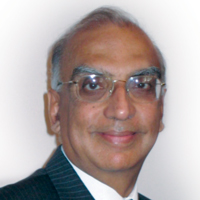 Banking & finance; insurance & reinsurance; power & energy; shipping
Shardul Thacker offers clients over 40 years of experience in corporate and commercial law. His clients include MNCs and Indian companies across industries, including: banking, chemicals, insurance, shipping, steel, subsea engineering and marine services, offshore construction, infrastructure (LNG ports, oil and gas), tooling and bearings, transport, trade and logistics.He acts as Indian counsel to Indian corporates and MNCs in their corporate transactions.
Shardul's clients include acquirers, sellers and targets in M&A cross-border transactions, who he advises on a host of issues involving competition and tax, as well as red-flag issues such as pollution, product liability and non-insurable. In commercial practice, he specializes in contracts of sale and purchase of goods and services, long-term take or pay and supply chain contracts, and also advises on industry regulatory issues.
He extensively advises EPC contractors in respect of offshore construction projects, subsea and topside, integrated and marine services contracts. He continues to act for overseas lenders in most India-related ship financing transactions, including LNG vessels flying foreign flags chartered by Indian companies.
Shardul regularly advises on various aspects of insurance law, including marine fire, erection, LOP, material damage. In his ship and structured finance practice he advises clients on investing in shipping ventures and LNG/FSRU projects, and handles cabotage, tonnage tax, pollution and the flagging of regulatory issues.
With vast experience in litigation and arbitration, both domestic and cross-border, Shardul has an in-depth commercial understanding which equips him to negotiate and seamlessly support his corporate, insurance, offshore construction and banking practice, offering solution-oriented and well-rounded advice. His acumen in strategizing and managing litigation risks for clients has facilitated resolving disputes with the least possible adverse effect to clients' business.
Lloyd's List ranked him "Top 10 Lawyers" and "Highly regarded for his work in the LNG sector, particularly for interesting and highly geared finance deals in relation to infrastructure projects, energy, ports and ships". He is also ranked in Band 1 by Chambers and Partners in shipping, banking and insurance. Who's Who Legal says, "Shardul Thacker is a leading figure in the Indian market and is highly respected for his first-class work in the shipping sector, particularly when it comes to financing matters".
Tell others about this lawyer