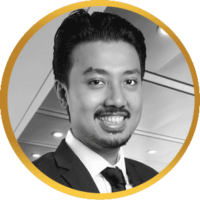 Pramudya A Oktavinanda
UMBRA Strategic Legal Solutions

M&A; capital market & securities; TMT; corporate and debt restructuring; power, energy & infrastructure
Pramudya Oktavinanda (Pram) is the managing partner of UMBRA Strategic Legal Solutions, and the go-to lawyer for any challenging and peculiar transactions that require a systematic combination of immense legal skills, business acumen, pragmatic attitude and imaginative thinking.
During his 15-year career, Pram has represented major government, local and international clients in some of the largest and most sophisticated national and cross-border transactions, consisting of public offerings of equity and debt securities (covering local and international offerings under Rule 144A/Reg S of the US Securities Act of 1933), private placements, mergers & acquisitions of public and private corporations, joint ventures, corporate, debt & pre-IPO restructuring, financial engineering, Islamic financing, and EPC & O&M contract drafting and negotiation. His experience includes more than 220 deals with a combined value of at least US$22 billion.
In addition to being academically trained in the art of law and economics, and Islamic law, as a Doctor of Jurisprudence from the University of Chicago Law School, Pram is well versed in various intricate industries such as telecommunications, broadcasting, digital technology, data and analytics services, power, energy, infrastructure, and state-owned enterprises.
Pram is one of the youngest lawyers to be consecutively recognized in the Asia Business Law Journal 2018 and 2019 top 100 Indonesian Lawyers (this is the third time he is acknowledged in ABLJ since its inauguration in 2018); and is nominated as the youngest ever "Deal Maker of the Year" by Asian Legal Business in its 2018 and 2019 Indonesian Law Firms Award; and is recognized as a "Highly Regarded – Leading Lawyer" for M&A and Capital Market Transactions in IFLR 2019 and IFLR 2020; and "Distinguished Practitioner" for M&A and Capital Market in Asialaw 2020.